Pallet Art at The Mercantile
We love supporting our team members here at The Mercantile. Desiree Thompson is a reclaimed wood artist & member of our team at The Mercantile. Desiree creates beautiful Pallet Art, home decor pieces & more.
"Lovely flowers have been known to grow out of trash heaps."
Pallet Hunting
Using reclaimed pallets she finds through dumpster diving or from The Mercantile, she creates incredible, wood art, furniture pieces, wall decor, shelving & more, all while recycling pallets that would have been thrown away.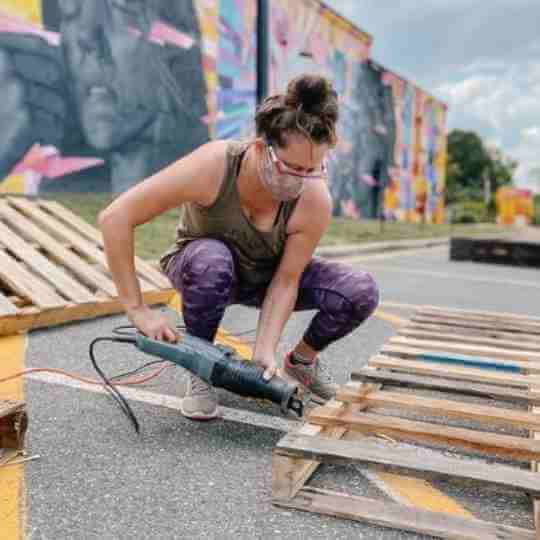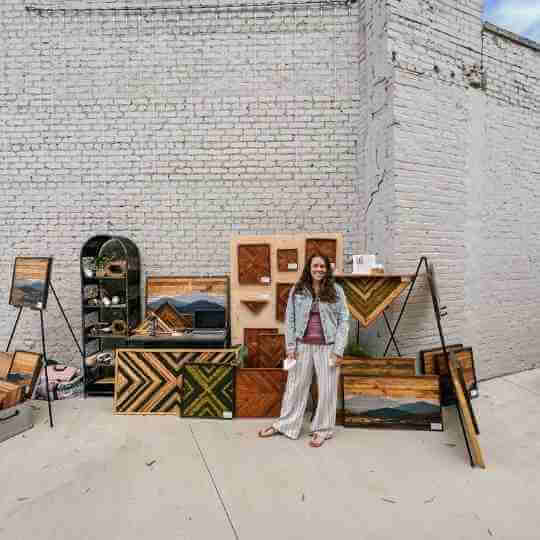 Saws, Pallets & Girl Power
In 2021, The Mercantile received a shipment of over 18 pallets worth of product (completely by surprise). With help from friends & a whole lot of girl power, we managed to recycle all the pallets & haul everything inside.
Desiree came to the rescue with her saw in hand. She helped us by breaking down each pallet to eventually recycle it into an incredible piece of art.
The Beginning
"I have always had a love for recycling and upcycling," Desiree says. "Truth is, I hate when things go to waste. In America, we have a huge problem of throwing amazing items out because of excess." 
Desiree's family moved to Rock Hill, SC in 2019. Moving into a newly constructed home, she said "walking the neighborhood watching new housing go up became a big part of our day, as we have children that are attracted to construction. Looking in the dumpsters at the discarded piles became part of those walks."
She adds, "one of our sons is from Ethiopia and on more than one occasion I have looked at dumpster bins and cried because in Ethiopia EVERYTHING is used. All the excess wood would be used to build homes in other countries." And that's where the collecting began.
"I started making items from the excess wood. It didn't matter that I hadn't done it before, I wasn't going to let perfectly good material go to waste. What was thrown away could be repurposed, reused, upcycled, reclaimed."
Reclaiming One Eighteen – The Name
"In our household we believe in Jesus. We believe he came to restore us to Father God. We also know, from the Bible, that he was rejected." Desiree explains, "He [Jesus] was cast out and discarded."
She notes that in Psalm 118:22 the bible says, "The stone that the builders rejected has now become the cornerstone." He is the cornerstone of Desiree's faith & "One Eighteen" came from this verse.
"The rejected materials are the foundation of my artwork" Desiree says. "I wouldn't have started without it because it wouldn't have needed to be reclaimed. Each piece I make has been reclaimed. Once destined for the dump now stunning and beautiful."
Not only does this apply to her artwork, but also to her individual life. "We are all in the process of being reclaimed. None of us finished. I believe that broken things can be made new."
To learn more about Desiree, her art & her mission, watch this mini-documentary that tells the story of Reclaiming One Eighteen. This video features the start, the process, the name, and the heart behind the art. This documentary is filmed, edited & created by our former team member & friend, Deonte Streeter.